PTraffic Schedule-Software
PTraffic is a easy to use Schedule table editor. Version 1.1 of the standard editions is available at a price of EUR 29. PTraffic Pro is available for EUR 99.
The Standard version includes the table editor as well as browser applications to show different views of the schedule tables, like a table for a specific time interval, a departure table, a passenger information table and a graphic schedule. PTraffic Pro includes alls functions of the standard version plus a line map editor and a traffic simulation.
Ordering
PTraffic can be ordered in our shop, by ShareIt or paid directly using PayPal. Shareit offers additional payment options:
All prices are final but not showing VAT in accordance to § 19 Abs. 1 of German sales tax law.
Downloads
The free of charge demo version may be used to test PTraffic for 30 days. Download: PTraffic_1_1_Demo.exe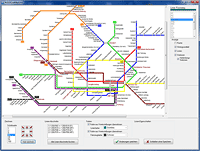 In addition to PTraffic standard a professional version is available. PTraffic Pro adds a line map editor and a traffic simulation to the standard-Version.
The demo version of PTraffic Pro can be used for 30 days.
The demo version adds a watermark to line maps which is not shown in the full version.
Download: PTraffic_Pro_1_1_Demo.exe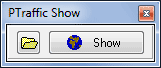 For projects created using PTraffic a player PTraffic Show is available at no additional cost. PTraffic Show contains the same browser applications as PTraffic.
Download: PTraffic_Show_1_1.exe