Feature Matrix
Features
PTraffic
Show
PTraffic Standard
PTraffic
Pro
Editor
Build and Edit stations, lines and timetables

-

✓

✓

Lline map edito

r

-

-

✓

Scaling of route plans

-

✓

✓

only PTraffic ProPlus
Journey planner
journey planner base

✓

✓

✓

Filter
(Filters can be used to reduce the number of displayed results for a planned
journey.)
✓
on / off
✓
on / off

✓


with various options
Save connections

✓

✓

✓

Print connections

✓

✓

✓

Graphical Connection View (bar chart)

-

✓


without options
✓
with various options
Connection table

-

✓


without options

✓
with various options
Compact connection table

-

-

✓
with various options

-

✓


without options

✓
with various options
Show AM/PM instead of 24 hour clock

✓

✓

✓

Included browser applications
Lines and stations

✓

✓

✓

Course of a line

✓

✓

✓

Timetables

✓

✓

✓

Actual Rides

✓

✓

✓

Timetables for period

✓

✓

✓

Graphic schedule

✓

✓

✓

Timetable for stations

✓

✓

✓

Departure Plan

✓

✓

✓

Departure board

✓

✓

✓

Information for passengers

✓

✓

✓

Transit Maps

✓
only for PTraffic-Pro projects

-

✓

Simulation
✓
only for PTraffic-Pro projects

-

✓

Other
Sample project

-

✓

✓

Build web-applications

-

✓

✓

Manual

-

✓

PDF-File

✓

PDF-File
Price
Free
29 Euro
99 Euro
Graphical Connection View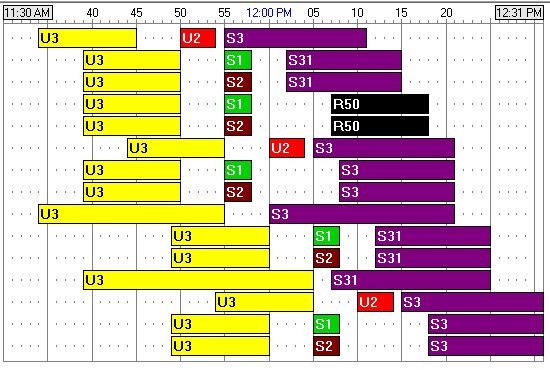 The graphical connection view will show the connections found as bar chart.

Connection table

The connection table presents all connections found in form of a table. Mulitple connectiosn are presented for easier compare and selection. The format also saves space and paper if printed.

Compact connection table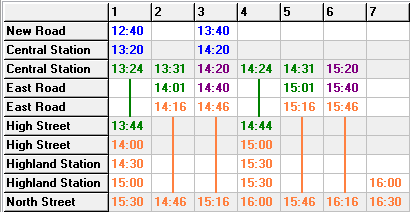 The compact connection table displays all connections in a table. Instead of using a row for each connection found a common part of all connections is presented only once. Thus the compact connection table uses less colums. Departure times are sorted chronologically and are on right side or below a given arrival time.
Graphic schedule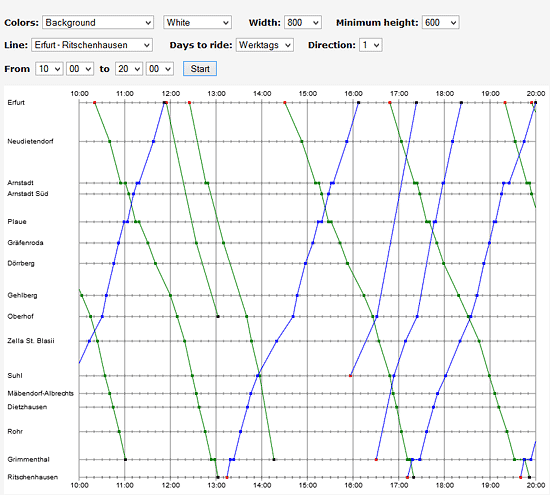 The movement of vehicles is displayed as diagram for an easy-to-read view of vehicle movement. Line, direction, time frame, colors and size of the graphical schedule may be defined individually.
Service Planning Diagram (Journey planner)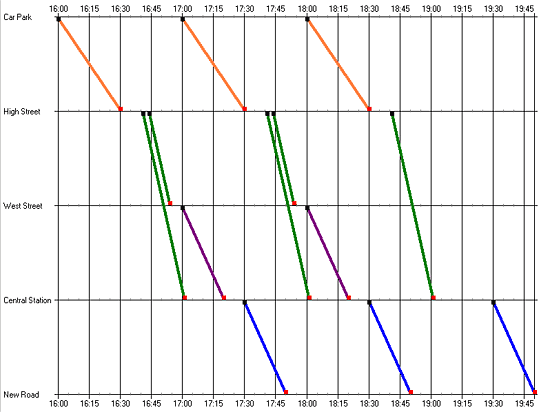 The Service Planning Diagram is used to display connection parts of connections found in form of a Path-Time diagram. These diagrams are used at train services to get an easy-to-read overview of train schedules. PTraffic uses this Service Planning Diagram - probably for the first time ever in displaying train schedules in any program - to display your time schedule. The big advantage is that all necessary travel information are contained in a single view.
Departure board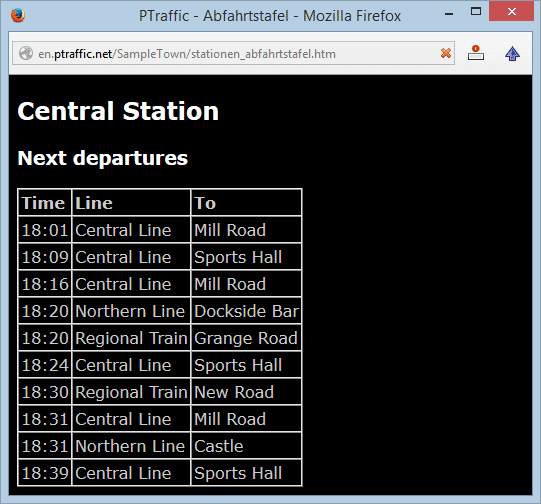 The departure board displays – similar to the departure table – the departures from a specific station. While the departure table depends on a choosen time frame the departure board uses the actual time and is updated every minute.
Information for passengers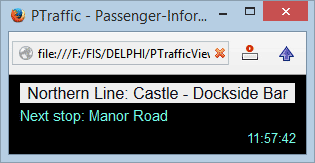 This pop-up window gives actual information about the current ride. These display board are used within the vehicle to provide information for passengers. Time and station information are presented in real-time.
Simulation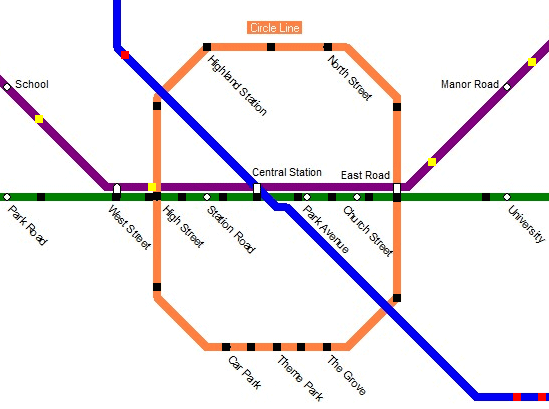 The simulation shows the movement of vehicles in a specified time frame on the network map. Different degrees of speed for the simulation can be specified.