PTraffic Schedule-Software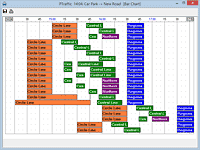 PTraffic is an easy to use schedule table editor. Maintain your complete network schedules, time tables, station tables, network graphs and use queries for journey planning. Version 1.2 has improved functions and a new feature to create individual graphic schedules.
PTraffic Standard includes the table editor as well as browser applications to show different views of the schedule tables, like a table for a specific time interval, a departure table, a passenger information table and a graphic schedule (new feature).
PTraffic Pro includes all functions of the standard version plus a line map editor, a traffic simulation and enhanced query functions.
PTraffic ProPlus includes all functions of PTraffic Pro. Additionally the linemaps can be scaled to the desired size (maximum 4961 x 7016 Pixel = DIN A4).
LineMap Draw
LineMap Draw is a software application developed for the professional and user-friendly creation of line maps. The finished line maps can then be scaled and printed or saved as image file.
How to order
PTraffic can be ordered in our shop and paid using money transfer to our bank account (shop only), Paypal or ShareIt, which offers additional payment options:
All prices are final but not showing VAT in accordance to § 19 Abs. 1 of German sales tax law.
The price includes all future updates to version 1.
Downloads
The free of charge demo version may be used to test PTraffic for 30 days. Download: PTraffic_1_3_1_Demo.exe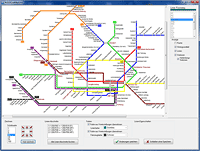 In addition to PTraffic standard a professional version is available. PTraffic Pro adds a line map editor and a traffic simulation to the standard-Version.
The demo version of PTraffic Pro can be used for 30 days.
The demo version adds a watermark to line maps which is not shown in the full version.
Download: PTraffic_Pro_1_4_1_Demo.exe
With PTraffic ProPlus you can also scale line network maps and then print them out.
Download: PTraffic_ProPlus_1_1_Demo.exe

For projects created using PTraffic a player PTraffic Show is available at no additional cost. PTraffic Show contains the same browser applications as PTraffic.
Download: PTraffic_Show_1_3.exe